The Feast LUTON Autumn 2021 Newsletter
The aim of this newsletter is to give you a snapshot of what is happening with The Feast in Luton. Please feel free forward this to your friends or family or people you think might be interested.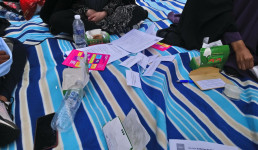 "I hope we do it again sometime …"
Following on from a first encounter between a Muslim group and Christian girls last year, thanks to Near Neighbours funding we were able to run three encounters in spring / summer.

Each time we met we had a fun activity, such as cake decorating and crafting, as well as crazy golf. We also ate together and the girls talked with one another about identity and impacting the world.

The difference between the first encounter and the third encounter was striking. At the first encounter, the girls were quite unsure of themselves and what they had let themselves in for. By the third encounter, they felt relaxed with one another and were genuinely happy to see each other again as well as talking with one another.

The girls found it challenging to think through their beliefs and explain those to others and worried about feeling judged. But they very much enjoyed meeting new people and discussing with one another, despite those initial reservations, and said they wanted to do this again.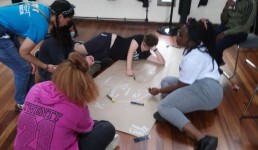 "I'd come back"
In August, we ran our first ever holiday programme in Luton thanks to Awards for All funding.
We had three days of activities and games, as well as group discussions on what makes us who we are and what we have to offer to others and to the town.The summer programme finished with the young people pitching an idea for a community activity to a panel. The winning idea was a car wash to raise money to put together packs for homeless people or children who miss out on Christmas presents because of poverty.

The young people who took part said that taking part in the summer programme helped them to be more confident about expressing their own opinion and more confident in hanging out with people who are different to them.

We wil be running a follow-up encounter day at the end of October, to give the young people the chance to put their idea into action.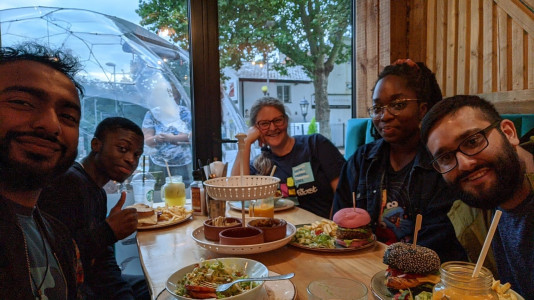 Space to Process
One of the highlights of this year has been a regular meeting up with a group of student-age young people. They have loved the space to process their thoughts and world view.

The guidelines for dialogue have created a very safe space in which to express views, ask questions and listen carefully to someone else's perspective.

This is how the participants felt about it:

"I enjoyed the conversations because it wasn't really like anything like I had ever experienced before…it was one of the calmest conversations I have ever had. Everyone was listened to. I could acknowledge what I think is true and still sit down and listen to and understand another person's view. It was very powerful to me."

"I enjoyed discussing and listening to the differences between not just our own faiths but even the nuances between the same faiths, showing me that not everything is black and white."

"I like that our differences became points of conversation and never contention."

"Hearing everybody speak so freely about their beliefs while respecting others, made me feel more comfortable to share mine more often, and more curious to listen to others."

Genuine friendships have developed in this group of young people which has been wonderful.
We are hiring!
We are so excited to have secured enough funding for a youth worker in Luton for up to 15 hours a week until the end of August 2022.

This has been a long time coming and a first step in being able to have a full-time youth worker here.

If you know anyone who would enjoy being part of The Feast team in Luton, who loves working with young people and who believes in building bridges across divides, please do let them know.
The Feast Guidelines for Dialogue
This edition's featured Guideline for Dialogue:
SPEAK POSITIVELY OF YOUR FAITH (or view), NOT NEGATIVELY OF SOMEONE ELSE'S
Or in other words: "Tell me why you are right, not why I am wrong …"

This approach is so much more honouring to the range of views, opinions and beliefs there are, and the nuances within those opinions. It communicates that you genuinely want to know where someone is coming from, not because you want to correct them but because you want to get to know them better.

It creates life-giving conversations that allow someone the dignity of working out their own response to another person's view with lots of space to think, rather than defensive discussions where participants are forced into a corner to protect their view.

It fosters an understanding where someone else is coming from, even if we disagree with them and creates a lovely space of being able to share what you believe without the fear of being belittled or attacked for your view.

The comments by our Space to Process participants demonstrate this well!
Pray for us!
If you pray, would you pray for our work in Luton?

Would you pray for our Autumn Youth Encounter where we will give our summer project participants the opportunity to come together again and do the project they devised in August?

Would you pray for wisdom to appoint the right candidate as a youth worker in Luton with The Feast?

Would you pray that we can create more safe spaces for life-giving interactions and dialogue, which lead to increased understanding of one another?
Help us raise funds!
Funding for our work is an ongoing challenge.

We would love friends and supporters to become regular donors – even if it is only the price of a cup of coffee every month. This kind of unrestricted funding makes a huge difference to us. Is this something you might consider?

Alternatively, funds raised from using Amazon Smile and by using Easyfundraising when shopping online makes a significant difference to us. Is this something you can sign up to do?
Thank you for your interest in the work of The Feast in Luton.

Do get in touch if you would like further information about any of the points we have highlighted above.

Ulrike