The Feast LUTON Spring 2021 Newsletter
The aim of this newsletter is to give you a snapshot of what is happening with The Feast in Luton. Please feel free forward this to your friends or family or people you think might be interested. 

"I never realised …"
In February 2020 we had a first encounter between Christian and Muslim girls. It was the first time these girls had met, but after some games and a bit of ceramic painting together, conversations quickly flowed. The girls shared very openly about themselves and their experiences. One of the Christian girls reflected afterwards that it had been really eye-opening: "I never knew they faced challenges like that".

Everyone felt that they would be up for doing this again. We look forward to 3 events  together, planned for the first part of 2021, thanks to funding from Near Neighbours (and covid permitting).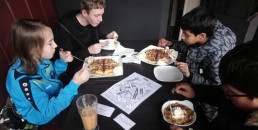 Meeting again
Also in February, boys from St Mary's Church and Al Hira masjid met again. They enjoyed a game of laser tag, followed by dessert and discussion.

We had various other events planned together throughout 2020, which sadly we were unable to do because of the covid situation.

But the boys were able to meet again (with social distancing measures in place and all wearing masks) in the brief window of opportunity during the October half-term holiday. It was interesting to compare stories of how covid impacted us and what helped us to get through it.

We are hoping to be able to pick this up again in 2021.
Then covid put us on hold
When covid hit, most of the Feast staff nationally were furloughed, as there was no way we could fulfil the obligations of the grants we rely on to function. That included Ulrike in Luton.

Because of this, and because we work with other people's young people rather than our own, we were unable to do anything Feast-related for the best part of 2020.

Hence the lack of news!
Volunteers!
One of the things Covid highlighted is the value of Feast volunteers.

We were sad to see two of our most active volunteers move out of Luton during 2020.
Going forward, we want to build up our base of Feast volunteers in Luton – people who can run Feast youth encounters and facilitate discussions for example, and who can champion The Feast and explain how the guidelines for dialogue what we use can transform conversations. With various groups interested in youth encounters, we need to have increased capacity to run youth encounters between various groups of young people.

Do you know anyone who might be interested?
Training!
One of the first things we were able to do when we started work again in the autumn, was to join in with the national Feast launch of our Training Hub.

The Feast is passionate about what we can bring to the table in terms of creating safe spaces for discussion and facilitating meaningful discussion about difficult issues. We will be offering a lot more training (nationally) as we go forward.
The launch included a series of webinars where we looked at what good dialogue looks like in various spaces.

The first one was Transforming Dialogue in Education. We were able to have much input in that webinar, where, with one of the teachers at Ashcroft High School in Luton (Ms Cooke), we were able to share about how using The Feast Guidelines for Dialogue has impacted students at the school. (Find out about the Ashcroft Story from minute 13.40 onwards)
Space to Process
It has been a real pleasure to host the space to process for a group of young men – 3 Christian and 3 Muslim – even in lockdown. They wanted a space to discuss aspects of faith, how our faith impacts our lives, how we are guided by our faith – and they wanted the space to explore these with one another as young men of different faiths and to find out how what various things look like for someone from a faith other their own.

We currently meet every few weeks on zoom for discussion on various faith-related topics.
The Feast Guidelines for Dialogue
This edition's featured Guideline for Dialogue:
DO NOT FORCE PEOPLE TO AGREE WITH YOUR POINT OF VIEW
2020 highlighted the dire need the world has to be able to discuss emotive issues (whether it is Brexit, or the American elections, fake news or our response to Covid) in a way that is constructive and helps us move forward together.

We have seen how people allow differences in perspective divide. We have seen how people have even made an enemy out of those who have a different point of view.

Not forcing people to agree with your views is not just about not trying to 'convert' people to your point of view.

It is also about allowing someone their point of view without telling them (overtly or subtly) that they are wrong. The dignity in that can be transformative.
Pray for us!
If you pray, would you pray for our work in Luton?

Would you pray for the youth encounters planned for 2021?

Would you pray for more volunteers who can help us run youth encounters?

Would you pray that the spaces we are able to create for people for dialogue are truly safe spaces in which good conversations can take place, and which lead to increased understanding of one another?
Help us raise funds!
Funding for our work is an ongoing challenge.
It is always a joy when we receive funding we apply for to run various projects. Conversely, it is a real blow when grant applications are rejected. At the moment, our work doesn't fit easily into the criteria many funders are looking for.We would love friends and supporters to become regular donors – even if it is only the price of a cup of coffee every month. This kind of unrestricted funding makes a huge difference to us. Is this something you might consider?

Alternatively, funds raised from using Amazon Smile for example also helps.

Do check out Easyfundraising whereby every time you shop online (not just on Amazon) you can help raise money for The Feast. Is this something you can sign up to do?
Thank you for your interest in the work of The Feast in Luton.

Do get in touch if you would like further information about any of the points we have highlighted above.

Ulrike